Fr Michael Clark
Diocese of Bridgeport, CT – USA
January, 2021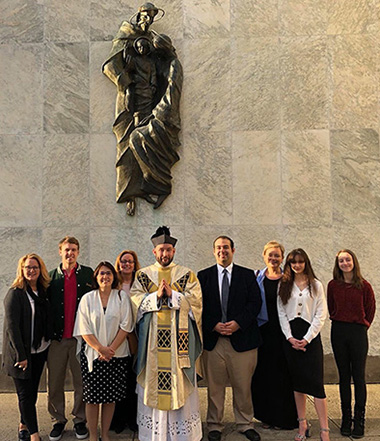 Father Clark was born in Chichester, UK. He attended St. Catharine's College, Cambridge where he graduated BA in 2005 and MA in 2008 reading Theology and then Law. He was called to the Bar in 2008 and is a barrister of the Honorable Society of the Middle Temple in London.
In 2012 he entered seminary formation at the Venerable English College for his home diocese. He studied Philosophy and Theology at the "Angelicum" and "Gregorianum" Pontifical Universities, followed by studies at the Pontifical Liturgical Institute at the "Anselmianum".
He came to the United States in 2017 answering a call to priesthood in the Diocese of Bridgeport and was ordained in 2019 at St. Thomas More Church in Darien, CT.
Father Clark's professional interests include Sacred Liturgy, Sacred Music and Sacred Art & Architecture. He is frequently asked to consult on Church renovations and liturgical planning and has undertaken his own projects in the USA, including the painting and gilding of a hanging Rood for his previous parish in Darien, and a scheme to develop a shrine chapel in Norwalk. He is also very interested in Scriptural studies, having some proficiency in a number of modern and historic languages including Hebrew, Greek and Latin, and is in demand as a Spiritual Director.
Father Clark's ministry is imbued with the missionary spirit of the 44 Martyrs of the VEC and he describes as "life-giving" his time in the College. "The College has a distinctive, noble calm which allows it to form men for today's priesthood insistently, but gently, with qualities that are truly timeless."