The Seminary
There has been an English and Welsh presence on Via di Monserrato since 1362, when the site was acquired by a confraternity of Englishmen living in Rome. Throughout the medieval period, the English Hospice, as it came to be known, offered a welcome to generations of pilgrims from England and Wales. The English Hospice of the Most Holy Trinity and St Thomas of Canterbury, to give it its full title, just twenty minutes' walk from the tomb of St Peter, beneath St Peter's Basilica, marked the end of a long journey along the Via Francigena pilgrim route. This extended from the tomb of St Thomas Becket (c. 1118-1170) in Canterbury Cathedral in England, across France, over the Alps and all the way down to Rome.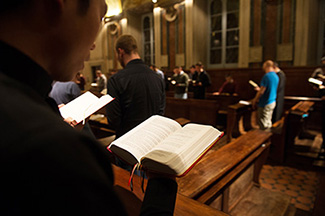 Today, some forty people live and work at the VEC. As well as seminarians and formation staff, the College accommodates priests pursuing further studies.
As a house of formation, the VEC provides spiritual, academic, human and pastoral development for those discerning and preparing for priestly ministry.
One of the major benefits of having a house of priestly formation in Rome is that the seminarians can benefit from the broad range of academic opportunities available there. The city is home to numerous pontifical universities and faculties offering a wide variety of courses. Academic formation for VEC students takes place mainly at the Gregorian and Angelicum Universities.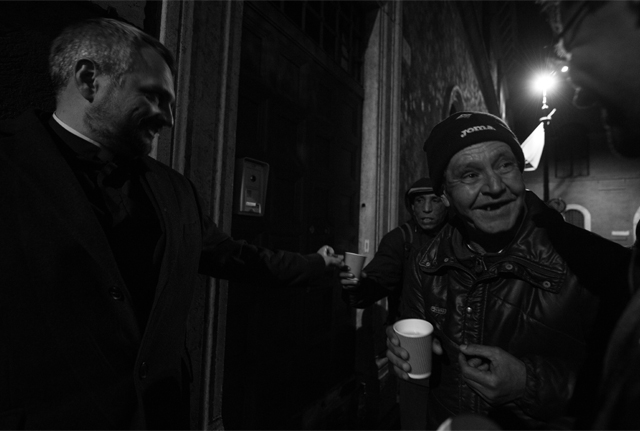 The VEC also receives a steady stream of visitors throughout the year. These include members of the public interested in learning more about the VEC's history, academic professionals, official visitors from embassies to the Holy See and other diplomatic personnel, and senior Church figures.
Safeguarding
The Venerable English College (VEC) has always been committed to ensuring that a safe and supportive environment exists for all its students, staff and visitors. The College complies with the policies and procedures developed by the National Catholic Safeguarding Commission (NCSC) and adopted by the Bishops' Conference of England and Wales.
These policies can be found at www.csas.uk.net. The College's Safeguarding Lead is Fr Michael Doody (pastoraldirector@vecrome.org).
The College Church
The church building of 1888 occupies the same space as the chapel of the medieval Hospice. Dominating the church is Alberti's Martyrs' Picture of 1581. Many monuments from the medieval chapel survive. Most notable is the effigy of Cardinal Christopher Bainbridge, ambassador of Henry VIII, who was poisoned at the Hospice in 1514. Above him are plaques recording the burials of Cardinal William Allen and Fr Robert Persons.
Around the church, roundels depict English and Welsh saints. In the Tribune above are the copies of the paintings by Pomerancío depicting in brutal detail the martyrs of England and Wales, culminating with the College martyrs.
Take a Virtual Tour