A Bumper Crop of Cardinals
Sunday, May 29, 2022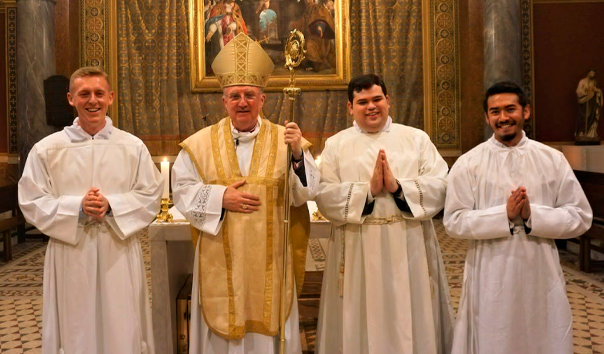 Many congratulations to Archbishop Arthur Roche who will be made a Cardinal by Pope Francis with twenty-one others on 27 August. Archbishop Arthur studied for his licence here at the English College as a priest and went on to become Spiritual Director for a number of years. He has been a great friend to the College. The photo shows him visiting us for Acolytate a couple of weeks ago.
We pray for him and for the others as they prepare to take on this important role.
Here is the full list:
Arthur Roche, prefect of the Congregation for Divine Worship and the Discipline of the Sacraments (United Kingdom).
Lazzaro You Heung-sik, Prefect for the Congregation for Clergy (South Korea).
Fernando Vergez Alzaga, President of the Pontifical Commission for Vatican City State (Spain).
Archbishop Jean-Marc Aveline, of Marseille (France).
Archbishop Peter Okpaleke, of Ekwulobia (Nigeria).
Archbishop Leonardo Ulrich Steiner, of Manaus (Brazil).
Archbishop Filipe Neri António Sebastião of Rosário Ferrão, of Goa e Damão (India).
Bishop Robert Walter McElroy, of San Diego (United States)
Archbishop Virgilio Do Carmo Da Silva, of Dili (East Timor).
Bishop Oscar Cantoni, of Como (Italy).
Archbishop Anthony Poola, of Hyderabad (India).
Archbishop Paulo Cezar Costa,, of Brasília (Brazil).
Bishop Richard Kuuia Baawobr M. Afr, of Wa (Ghana).
Archbishop William Goh Seng Chye, of Singapore (Singapore).
Archbishop Adalberto Martínez Flores, of Asunción (Paraguay).
Archbishop Giorgio Marengo, Prefect of Ulaanbaatar (Mongolia).
Five are over the age of 80:
Archbishop Jorge Enrique Jiménez Carvajal, Archbishop Emeritus of Cartagena (Colombia).
Archbishop Lucas Van Looy sdb, Archbishop Emeritus of Ghent (Belgium).
Archbishop Arrigo Miglio, Archbishop Emeritus of Cagliari (Italy).
Father Gianfranco Ghirlanda sj (Italy).
Monsignor Fortunato Frezza (Italy).