Biography
<< Back
Dr. Paul Beresford-Hill, CBE, KM, Kst.J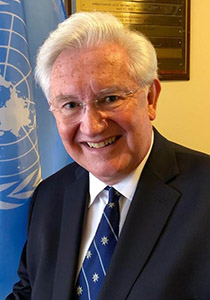 Dr. Paul Beresford-Hill is the Ambassador and Permanent Observer of the Sovereign Order of Malta's Mission at the United Nations in New York. A graduate of both Oxford University and Columbia, he has been a Research Associate at the Oxford Department of Educational Studies and an Adjunct Professor at Columbia University Teachers College. Dr. Paul has worked in schools in the USA, the UK and Asia, and was Chief Administrator for Global Learning at Dowling College in Long Island.
In 1984 Dr. Paul founded the Mountbatten Institute as an international student exchange program and graduate business school. From 1999 to 2005 he was Director of the Bangkok Patana School, the British International School in Bangkok. On his return from Thailand he assumed the role of Director General of Mountbatten.
He is currently the Chairman of the English Speaking Union of the United States and was formerly the Chair of the Oxford Said Business School New York alumni and sits on the Board of the Lehman College Foundation in New York. He was a co-founder of the Access to Excellence program at Wadham College, Oxford University, an initiative providing academic and personal support for aspirants to Oxford who are from minority and underserved ethnic groups and communities.
He is also Chairman of the American International Accreditation Association of Schools and Colleges, an international quality assurance agency which serves schools in the Middle East and Asia. He is the author of several books, including Education and Privatization, and From Cooperation to Collaboration, and has published in the Oxford Review of Education, Education Today and the Journal of Southeast Asian Education.
Dr. Paul is active in numerous Roman Catholic and ecumenical organisations and for five years was the Chair of the Foundation of Mary Immaculate College in Limerick, Ireland. While in Thailand he organized links between students of Lux Mundi seminary and the expatriate community, providing English language tutoring to seminarians and introducing expatriates to the rich history of the Church in Thailand.
In addition to his heavy commitment to the Sovereign Order of Malta at the United Nations, he is also a Knight Grand Cross of the Order of the Holy Sepulchre.
Dr. Paul is married and he and his wife, Kathryn, have two grown sons.